Each dog I place into a loving home becomes part of our extended family and truly matters to us. I want each of my dogs to have the full life they deserve. Here is a story from one of our longtime owners, sharing how Ravensown dogs find a way deep into our hearts — and even onto a mural into downtown Seattle! — KO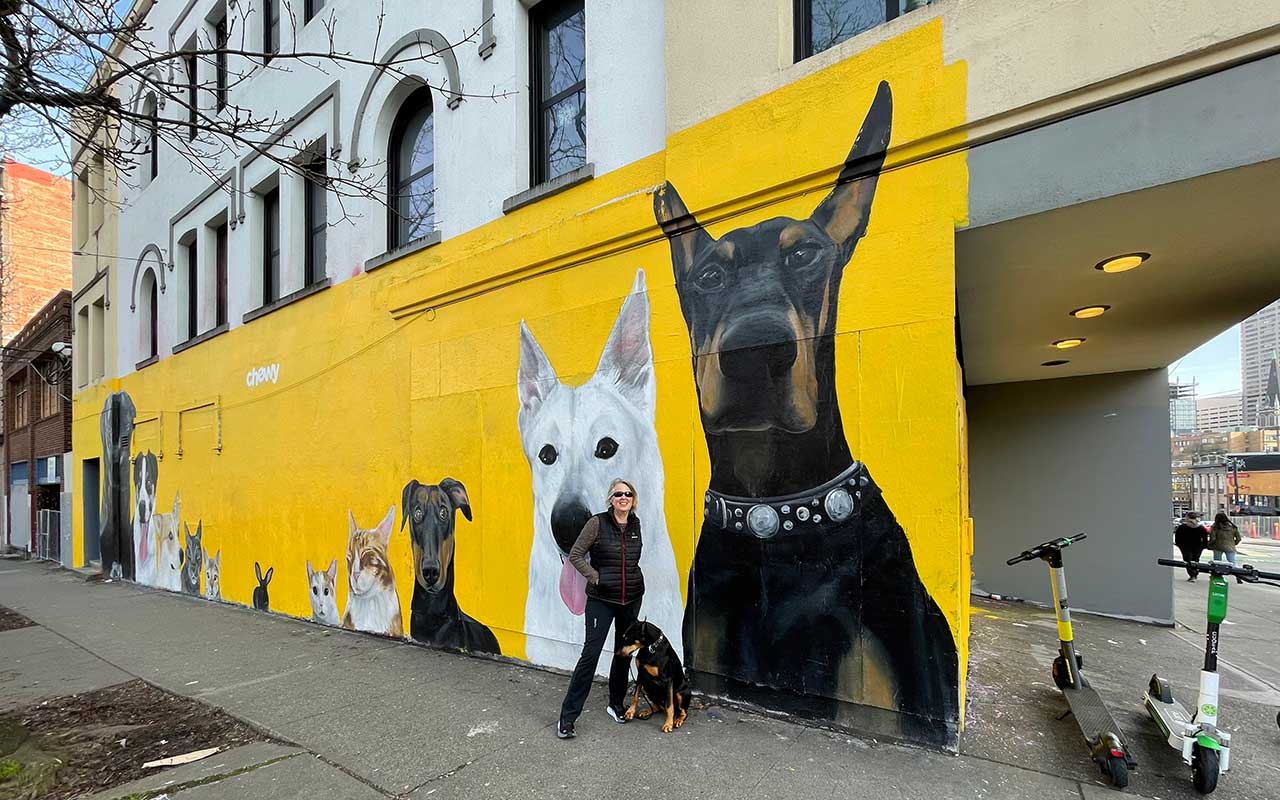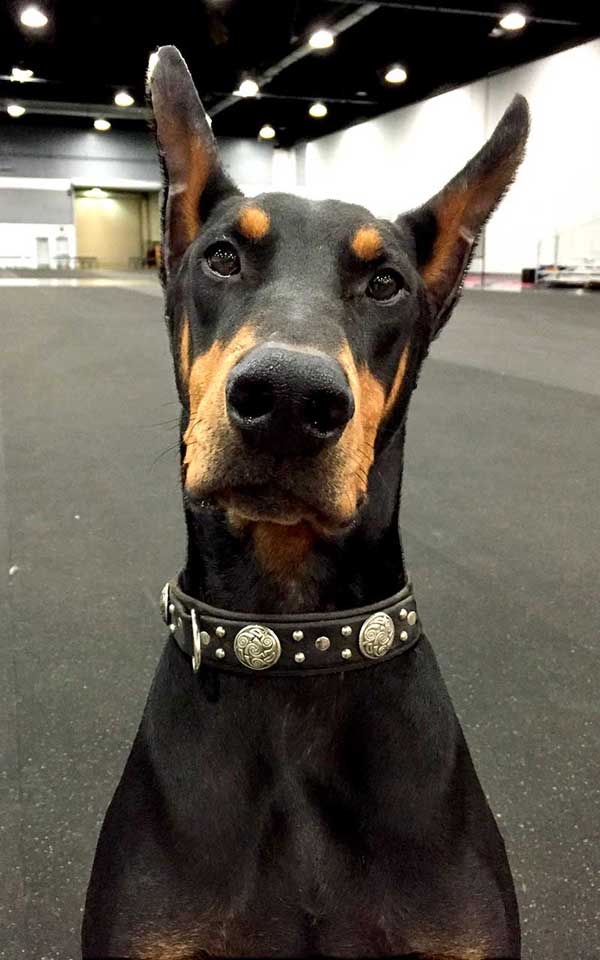 Remembering Seamus
GCh Ravensown Who's Got the Luck O' the Irish @ Foxfire CD ROM NAP NJP NFP RA RAT-O CGC TDI TKN
March 17, 2013 – February 17, 2022
by Andrea Gates Sanford
On the evening of February 17, my nephew Dan and I said goodbye to one of the best dogs I've ever had, a remarkably kind male Doberman pinscher named Seamus. The morning after he died, I checked my email in a fog of grief and tears to let friends and co-workers know. I had an email from Chewy in my inbox saying, "We're celebrating you and Seamus! Come down to Capitol Hill and get a big surprise!" I assumed all Seattle Chewy customers received this as a promotion and I could not bring myself to read through the details. Knowing I would never again enjoy a fun day with Seamus, I simply deleted it.

Seamus was a big kind beefcake of a dog and a thoughtful guardian who enjoyed everyone he met. While he had a powerful, muscular presence, his loving demeanor endeared him to all. He was so fun to work with and became an AKC Grand Champion plus held titles in Obedience, Agility, Rally, Barn Hunt, Trick Dog and Therapy. He held a Register of Merit with the Doberman Pinscher Club of America. He adored children, especially teenagers, who gravitated to his gentle strength. Mostly he loved his friends and wanted to be a part of any gathering. He was always watching for the next thing to do and ever game. He loved to be adored — and he was.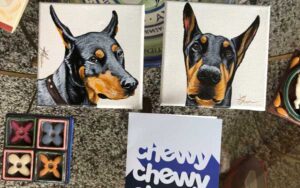 The next month, I received a surprise delivery from Chewy: a Doggy Goody Box thanking Seamus for being such a good customer. Included in the box were lovely little hand-painted portraits of Seamus and my younger dog, Pearl. The portrait images were taken from our Chewy account photos, the one of Seamus was from the day I picked him up from Kim. I had outfitted him with a fancy collar studded with Irish medallions.  It seemed the perfect way to welcome this lovely dog into my family.  
I assumed this box was a marketing promotion from a good company recognizing long-standing customers. But I was puzzled about why we were selected. I wondered how Chewy knew Seamus had died. I was certainly grateful for this sweet remembrance. Later that day, my nephew came over and I showed him the portraits. He looked surprised and said, "I think I've seen this portrait on a mural downtown." 
I pulled out the original photo and Dan connected the dots. We realized the February email must have been telling me Seamus was featured on the mural and made a beeline to Capitol Hill. As we walked down Broadway — there was Seamus, right on the corner of a building in the heart of downtown Seattle! Chewy had coincidentally selected him, among others, for their pet portrait mural celebrating new Seattle headquarters. What an incredible surprise! 
Dogs give us the opportunity to love with pure abandon and to connect somehow with a different being completely outside our limited human selves. Their all too short lives are brief chapters in our own story. Every dog brings a fresh love and a new beginning — a chance to do it over again, to try to get it right, to learn how to rebuild and how to love again. I was indeed the lucky one to share the joyful life of Seamus. He leaves me and those who knew him bereft and heartbroken but so much better for the kindness and love he gave. 
I am so grateful to Chewy and Ariel Parrow (Chaotic Aquatic) for recognizing and sharing the soul of Seamus with all of Seattle. He would have been so proud. His spirit radiates from the mural and continues to spread his kindness. 
Who's got the luck o' the Irish? We all do now.