Ravensown-KO
DOBERMAN PINSCHERS
& Dog Services
AKC Breeder of Merit and Preservation Breeder of
Quality Doberman Pinschers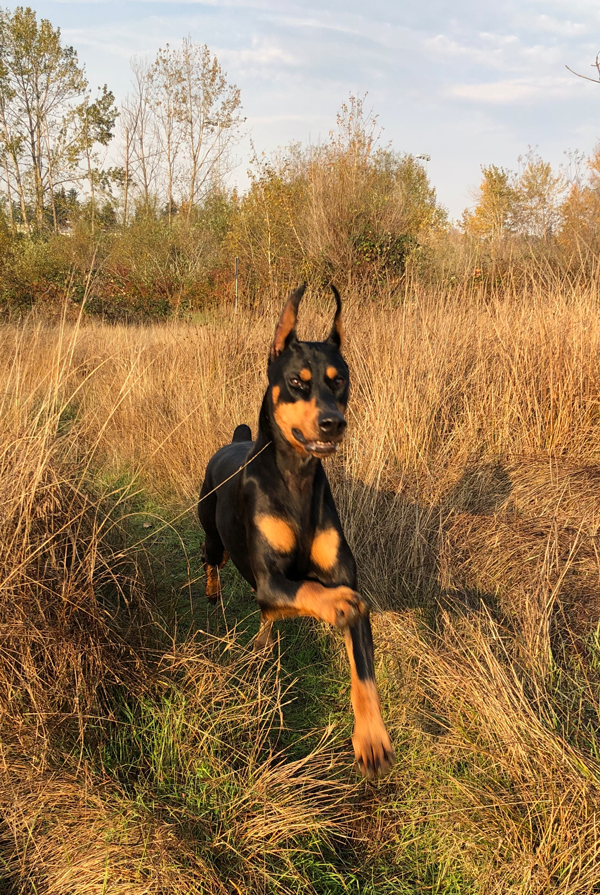 Ravensown-KO Dobermans is devoted to the best of the Doberman breed, always putting quality temperament first. Since 1988, we have been working to breed healthy, sound Dobermans that conform to the Doberman Pinscher Club of America breed standards.
Our dogs are active, devoted family companions, competing and titling in conformation, obedience, rally, agility, barn hunt, farm work and service/therapy. Our puppies are lovingly raised in our home, on three acres nestled in the Cascade Mountains of Washington and are from carefully selected, health-tested Champion lines.
We make a lifetime commitment to our puppies and work hard to ensure the right dog is going to the right home. We want to get to know you and help you find the perfect lifetime companion for your family.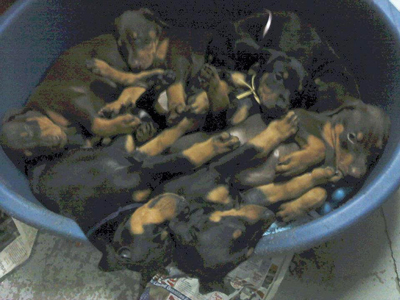 We do not condone or support the breeding of the "white"/albino Doberman as it is a genetic mutation. Learn more about the DPCA policy on albinism.
Looking to add a Dobe to your family?
Consider the temperament of the breed, the care and grooming needs, breed-associated health risks, exercise needs, size, energy level, training needs and how all of this fits with your lifestyle.
Consider if you are ready for a commitment of time and finances to a new, dependent family member for an expected ten or more years.
Here are some FAQ about living with a Doberman for a lifetime!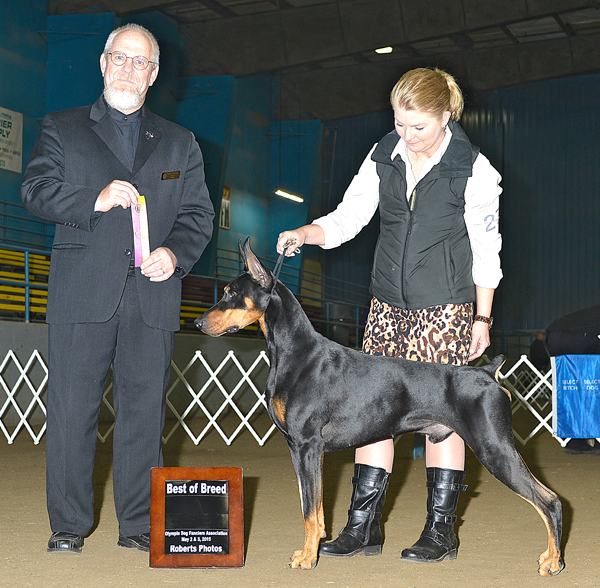 Energetic, watchful, determined, alert, fearless, loyal and obedient. 
Ravensown-KO Dobermans aim to conform to breed standards as set forth by the Doberman Pinscher Club of America and followed by the American Kennel Club.
We want you to have a lifetime of love with our puppies. We've spent a lot of time living with Dobermans, going to shows and soaking up every piece of information we could about this wonderful breed. 
These are some organizations and terms we've found most helpful.
We breed on a limited basis and puppies are only occasionally available. Contact us to see when the next litter may be planned.
All pups are cropped, docked and microchipped before going to their homes. We require our companion (non-show) puppies to have a spay/neuter contract and a non-breeding limited registration. 
What to expect living with a Doberman pinscher
What to expect with a Ravensown-KO dog
Ravensown-KO dogs at work and play
Ravensown-KO dogs in the community
ravensown ko who's got the luck o' the irish @ foxfire
seamus
foxfire n ko
janis joplin's
pearl
Pearl
ravensown-ko happiness is the truth @ foxfire
sebastian
Ravensown Destined to Rain
BETTY
ravensown distant sturmunddrang
VIC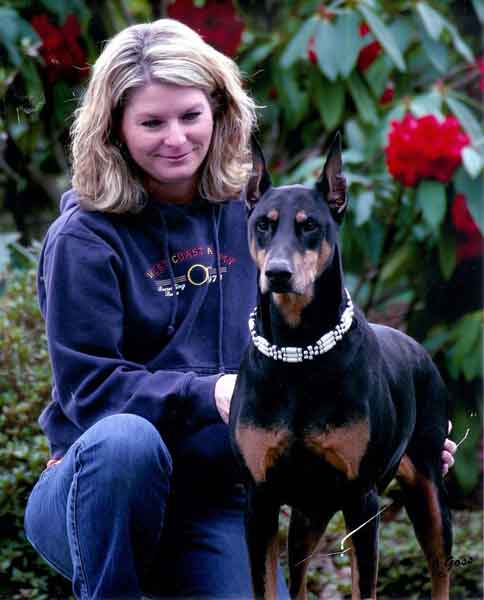 Showing dogs is my favorite way to spend a weekend. Training, bathing, grooming, conditioning and showing your dog are all a part of the personal service I offer, and helps to achieve a winning performance for your dog.
Aside from the many Dobermans I handled to Grand Champion titles, Group and BIS wins, I have handled Great Danes, Dalmations, poodles and several other breeds. I only handle a limited number of dogs, making it possible to give your dog the special attention they deserve.
Zendog — Additional services for dogs
I have a been licensed veterinary technician for over thirty years and offer additional pet services including:
Blood Work and Health Testing
Breeding and Whelping Assistance
Breed and Behavior Counseling
General Pet Health Care
Mobile Veterinary Care Service
We look forward to hearing from you. I do not check email often as I'm usually spending time with the dogs, but will do my best to get back to you as soon as possible.